PHOENIX — Governor Doug Ducey and United States Department of Agriculture (USDA) Secretary Sonny Perdue today signed a Memorandum of Understanding at the Arizona State Capitol to further key local, state and federal partnerships that address the threat of wildfires and better protect Arizona communities. The Governor and Secretary Perdue were joined by U.S. Forest Service and Arizona Department of Forestry and Fire Management leadership. 
"In Arizona we know addressing the threat of wildfires is a team effort that requires constant collaboration across local, state, and federal levels," said Governor Ducey. "The mutual commitments outlined in today's Memorandum of Understanding will further these key partnerships — making Arizona communities better protected against catastrophic wildfires. My sincere thanks to Secretary Perdue for his continued partnership with Arizona and dedication to responsible forest management."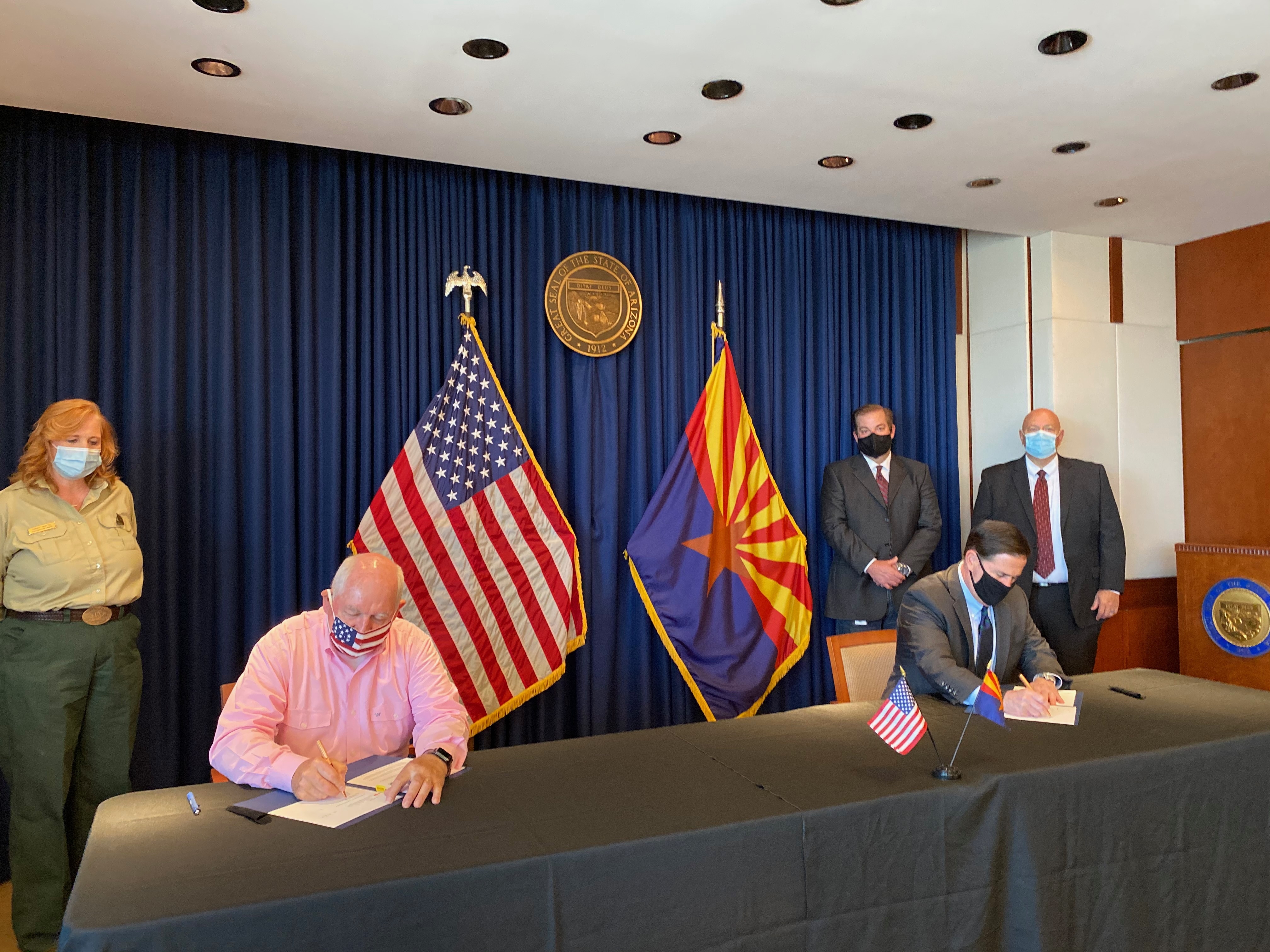 From left: USFS Acting Regional Forester Region 3 Sandra Watts, USDA Secretary Sonny Perdue, Arizona DFFM Assistant State Forester Aaron Green, and Arizona DFFM Director David Tenney. 
The agreement focuses on restoring fire-adapted ecosystems and reducing the risk of wildfire to communities; identifying, managing, and reducing threats to forest and ecosystem health; and fostering economic development strategies that keep working forests productive.
The agreement also places special emphasis on a commitment to close collaboration on the next phase of the Four Forest Restoration Initiative (4FRI), a partnership with the Salt River Project, U.S. Bureau of Reclamation, and the Arizona Department of Forestry and Fire Management. In this next phase, the U.S. Forest Service will select contractors capable of increasing the pace and scale of mechanical thinning treatments and related work items within the 4FRI project area. 
Background 
As a flagship example of Shared Stewardship, 4FRI is a national model in collaboration and working at landscape scales, and has become a platform for learning, exploring opportunities, and adopting new business practices to increase efficiency.
The vision of 4FRI is a restored forest ecosystem that poses little threat of destructive wildfire to thriving forest communities, and supports sustainable forest industries that strengthen local economies while conserving natural resources and aesthetic values. With a 2.4 million acre footprint, 4FRI is the largest landscape-scale restoration project ever undertaken by the Forest Service.
The Forest Service Southwestern Region, in partnership with the Salt River Project, U.S. Bureau of Reclamation, and the Arizona Department of Forestry and Fire Management developed the 4FRI Phase 2 Stewardship Contract Request for Proposals (RFP).
View today's Memorandum of Understanding HERE.
Go to Source
Author: